It's no secret that the pandemic has largely impacted the global market. As leaders in the self-storage industry, CallPotential's driving focus is to provide valuable insight to help operators answer the tough questions: "What now?" and "How should I adapt?"
This month we highlight only the stand-out metrics that we think have importance to operational decision making. Join Holly and Phil as they review the data in our latest Fireside Chat below!
About the Data
Our insights are based on data collected from thousands of CallPotential customers, in varying sizes, across the U.S. and Canada
We measured year-over-year and month-over-month data to give a comprehensive snapshot of COVID-19's effect
Collection Events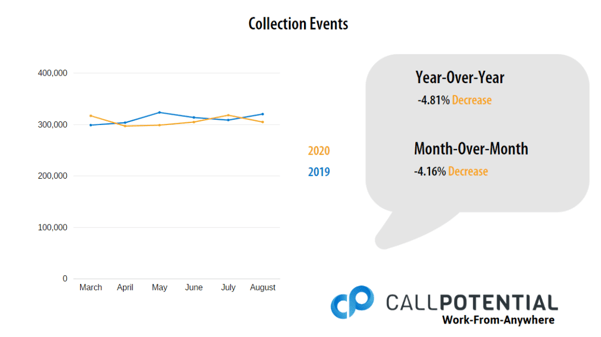 August saw a dip in total collection events after following July, the first month of 2020 that we saw an increase in collection event numbers. Our data reflects manual and automated texts, calls, and emails that were sent to delinquent customers through CallPotential's system.
Many regions had a moratorium on evictions that was due to expire in July only to be renewed later in the month. This unexpected extension could have an influence on the decrease, increase, decrease trends we are seeing the last few months.
Auto-Pay Enrollments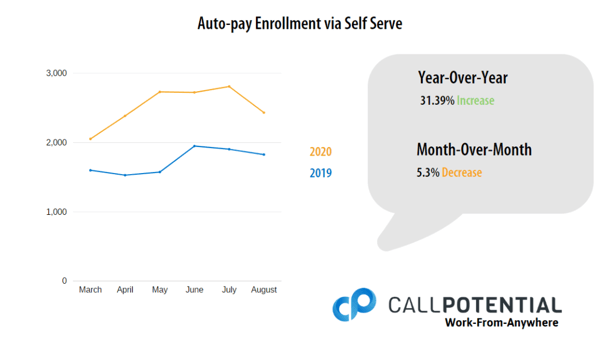 Auto pay enrollment saw it's first decrease this year with a 5.3% decrease. However, year over year we are still seeing a 31.3% increase in new enrollments. With advantages like streamlined operations and better customer service, auto pay has proven to be an extremely valuable tool for operators in 2020 with auto-pay enrolls staying 4-6 months longer than tenants who were not enrolled.
We expect to see the auto-pay numbers continue to trend above 2019 averages for the remainder of 2020.
[Case Study: Compass Self Storage Increases Auto-pay Sign-Ups by 25% Using CallPotential's Collection Manager]
Inbound Calls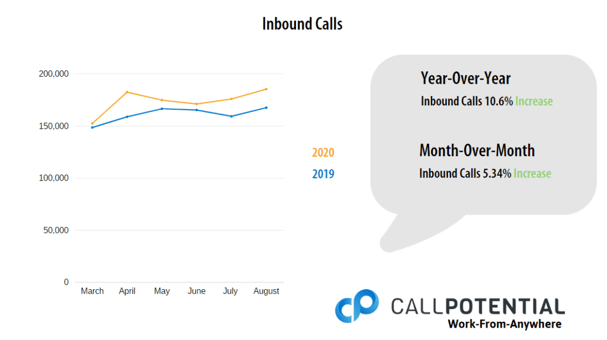 Inbound calls continue their upward trajectory. Call data is inclusive of total incoming calls representing a diversity of customer payments, inquiries, questions on facility hours and more.
Similar to April, we're seeing a jump in calls with a 5.34% increase month-over-month and 10.5% increase year-over-year. As COVID-19 restrictions ease state-by-state, we're finding that customers are shopping for storage again. To support this call influx, most operators are relying on live call centers or call center software like our DIY Contact Center to manage and route their inbound calls.
[Snapbox Self Storage Builds Internal Call Center with CallPotential Contact Center Software]
Leads Entered
Now for the real show stopper. August saw a tremendous gain in new leads entered with a 17.6% increase year-over-year and a 19.2% increase month-over-month. We measured total lead volume which includes leads from calls, call centers, and walk-ins.
Following a typical July, it seems we are seeing rebound of interest in self storage. While we had hoped that we would be past the pandemic we are finding we're not quite there yet. Just speculating, many families are grappling with virtual learning and could be contributing to the influx in late summer rentals as they free up space for home learning.
This influx in leads can be overwhelming if not staffed appropriately. Using a proactive capture and automated follow-up system like CallPotential's Lead Manager can help prevent leads from falling through the cracks and give management teams scale in their reach.
Rentals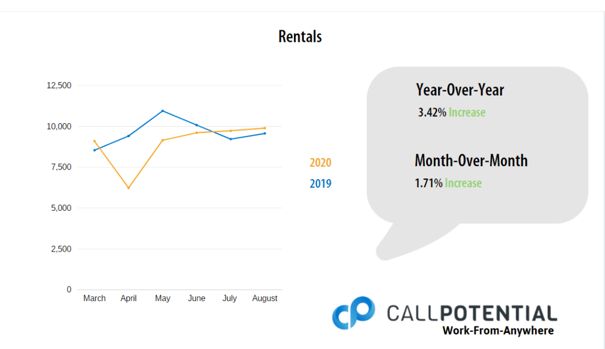 It's still a little early to see the leads from this month to close, but we are already seeing a 3.43% increase year-over-year and a 1.71% increase month-over-month in new rentals. We full anticipate this number to be much larger by the end of the month when new leads have had the opportunity to close.
What Do You Want to See?
Our driving force continues to be supporting the self-storage industry through data for better business-making decisions. If there is any specific data you'd like to see, please reach out. We're here to help!
To see any of our products in action, schedule a demo here.