It's no secret that the pandemic has largely impacted the global market. As leaders in the self-storage industry, CallPotential's driving focus is to provide valuable insight to help operators answer the tough questions: "What now?" and "How should I adapt?"
This month we highlight only the stand-out metrics that we think have importance to operational decision making. Join Holly and Phil as they review the data in our latest Fireside Chat below!
About the Data
Our insights are based on data collected from thousands of CallPotential customers, in varying sizes, across the U.S. and Canada
We measured year-over-year and month-over-month data to give a comprehensive snapshot of COVID-19's effect
Collection Events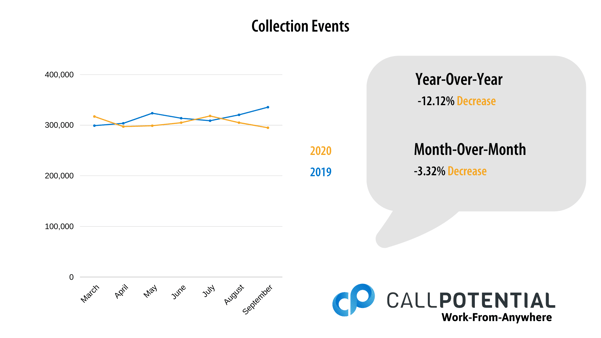 Like August, September saw another dip in collection events. Our data reflects manual and automated texts, calls, and emails that were sent to delinquent customers through CallPotential's system.
There are two key indicators in why we might be seeing this decrease.
1.) Aside from July, 2020's numbers are fairly flat and stabilized. It's likely that this is a result of operators adapting and sticking to a steady routine as we navigate our "new normal."
2.) Auto-pay, as we have revealed in previous Fireside Chats, is still up significantly year-over-year. With more enrollees, less reminders are needing to be sent out.
Auto-Pay Enrollments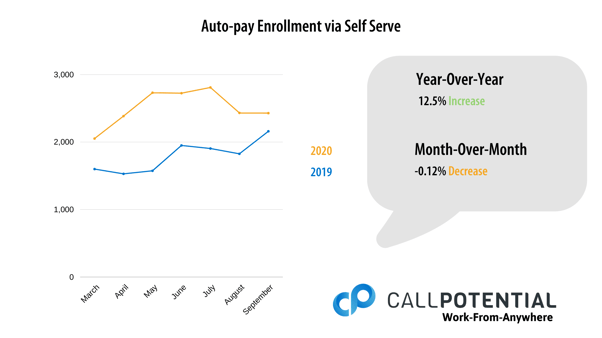 Auto-pay enrollment saw a slight decrease this month with a -0.12% dip. Despite the small decrease, customers continue to see the value of auto-pay services, adding to a 12.5% growth year-over-year. With advantages like streamlined operations and better customer service, auto pay has proven to be an extremely valuable tool for operators in 2020 with auto-pay enrollees staying 4-6 months longer than tenants who were not enrolled.
As mentioned in last month's Fireside Chat, we still expect to see the auto-pay numbers continue to trend above 2019 averages for the remainder of 2020.
[Case Study: Compass Self Storage Increases Auto-pay Sign-Ups by 25% Using CallPotential's Collection Manager]
Inbound Calls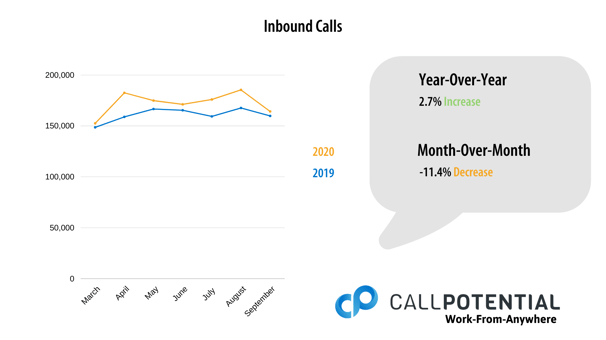 Unlike August, rental activity has started to settle in September causing a -11.4% decrease from last month. Call data is inclusive of total incoming calls representing a diversity of customer payments, inquiries, questions on facility hours and more.
August's heightened call volume was most likely attributed to a strong return in normal activity. With summer coming to an end and school starting up, many renters were on the hunt for storage. As activity slowed down after Labor Day, call volume decreased and returned back to normal. For operators relying on internal call center software like our DIY Contact Center, it's easy to stay consistent and deliver high-quality service regardless of a busy or slow month. Most operators enjoy the consistency, quality, and reliability that internal call systems offer.
Leads Entered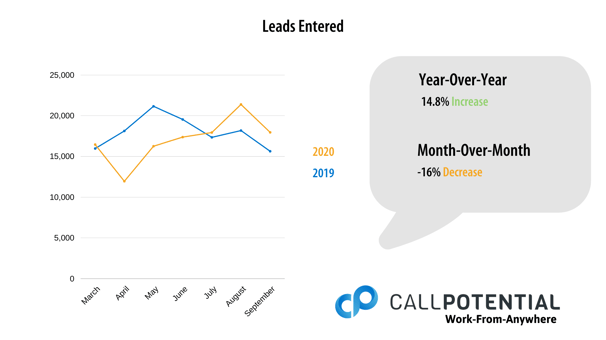 September was another show-stopping month for leads entered year-over-year with a 14.8% increase. However, there was a -16% decrease from August. We measured total lead volume which includes leads from calls, call centers, and walk-ins.
Due to August's high activity, September's month-over-month numbers are a result of a tapering interest in self storage. Although it's a significant drop, it's still not alarming when looking back at 2019. Leads entered are still almost 15% higher, most likely due to those staying home more and looking to solve their storage issues.
Depending on the predicted resurgence of COVID this fall, we could continue to see a climb in leads entered. Using a proactive capture and automated follow-up system like CallPotential's Lead Manager can prevent leads from falling through the cracks and give your management team the opportunity to significantly improve conversion rates.
Rentals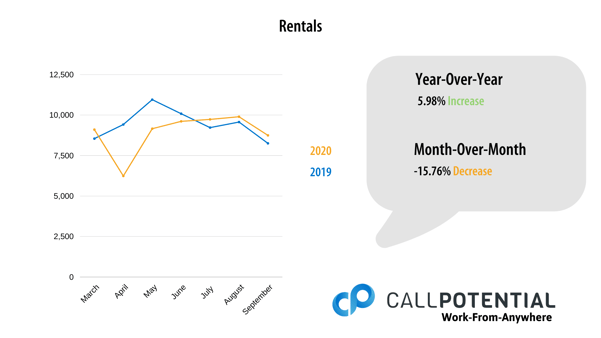 Although it's still early to see the leads from this month to close, we are already seeing a 5.98% increase year-over-year in new rentals.
Because of the high influx in leads and moderate increase in rentals in August, many operators are now facing a jump in occupancies, causing a -15.76% decrease in rentals month-over-month. We suspect this will cause some price increases and revenue management will play a big role in rebounding the rental rate in the next few months
Lead Conversion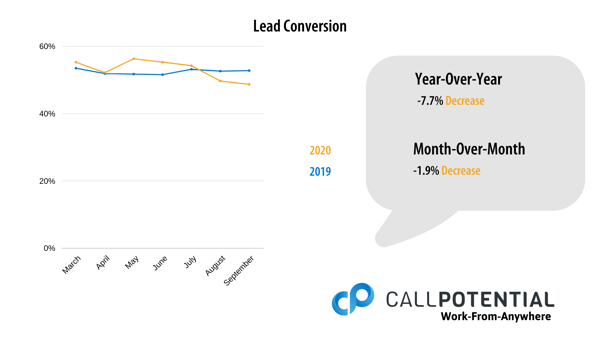 Although there's been a decrease in lead conversions both month-over-month and year-over-year, the storage industry is seeing a strong opportunity to boost lead conversion thanks to the 15% increase in leads entered year-over-year.
So why haven't they been converting? It's likely that many potential customers are viewing storage as an amenity rather than necessity following August's busy month. With the start of school and labor day behind us, we're guessing that they've lessened the priority of their storage needs and are shopping from location to location, taking their time with their decision.
With an increased sales opportunity, managers can lessen the pressure of lead conversion using a tool like our Lead Manager. Not only does it provide peace-of-mind with guaranteed follow up, it allows the management team the time and tools needed to focus on closing even more leads.


What Do You Want to See?
Our driving force continues to be supporting the self storage industry through data for better business-making decisions. If there is any specific data you'd like to see, please reach out. We're here to help!
To see any of our products in action, schedule a demo here.
Upcoming Webinar: Collections 101
We've designed our new three-part webinar series on collections best practices to help alleviate common challenges and provide insight from operators and other industry experts.
Join us as we kick off our Collections 101 webinar with best practices and tools to simplify your process. Find more details and register here!