It's no secret that the pandemic has largely impacted the global market. As leaders in the self-storage industry, CallPotential's driving focus is to provide valuable insight to help operators answer the tough questions: "What now?" and "How should I adapt?"
Like anyone else, we're asking the same questions for ourselves and are relying on data to shape our decision-making. We've broken down metrics on call, lead, and collection performance from the first week of July to assess the overall impact of COVID-19 on our industry. As the world continues to grapple with ever-changing circumstances, we will continue to release our benchmark data as a reliable resource for operational changes.
Review the data or watch CallPotential Founder and President Phil Murphy interpret the data in our latest Fireside Chat below!
About the Data
Our insights are based on data collected from thousands of CallPotential customers, in varying sizes, across the U.S. and Canada
We measured year-over-year and month-over-month data to give a comprehensive snapshot of COVID-19's effect
Collection Events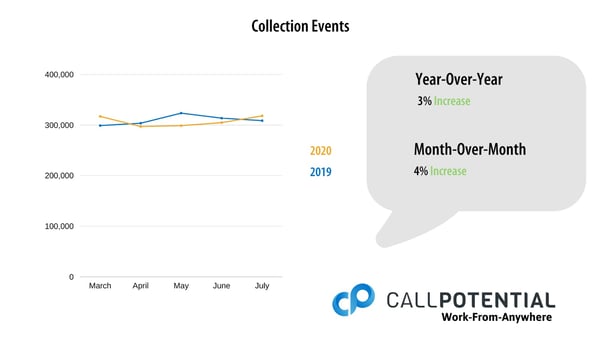 July is the first month of 2020 that we're beginning to see a return in collection event numbers. Our data reflects manual and automated texts, calls, and emails that were sent to delinquent customers through CallPotential's system.
At the start of 2020 collection events were on track with, and even above, 2019 numbers. However as the onset of COVID-19 ensued, we saw a pullback in an effort by operators to soften their tone and messaging. "Leading with empathy" became the new strategy as many owners searched for best follow-up practices while staying mindful of the pandemic's effect on tenants.
With the reopening of the economy in June, we saw a 4% month-over-month increase in collection events for the first week of July. More texts and emails are being sent, phone calls are being made, and collection follow-up is returning to normal. As an owner and operator of 17 locations himself, CallPotential President and Founder Phil Murphy has also tailored his messaging and increased frequency as the economy continues to reopen.
Auto-Pay Enrollments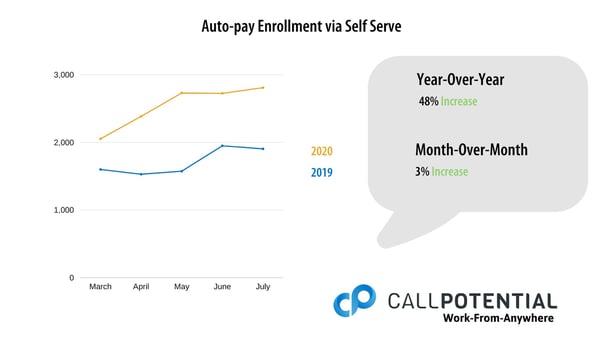 Auto pay has skyrocketed with a 48% year-over-year increase and 3% month-over-month increase. With advantages like streamlined operations and better customer service, auto pay has proven to be an extremely valuable tool for operators in 2020.
According to a study done by a large CallPotential operator, the average auto-pay enrollee stayed 4-6 months longer than tenants who were not enrolled. CallPotential tools offer an easy solution that prompts auto-pay messages through text, email, and pay-by-phone. By offering more self-serve channels like auto pay, tenants are freed from the burden of recurring payments and operators are able to strengthen their customer loyalty and retention.
Aside from providing better service to customers, auto-pay is helping free up managers' time by reducing invoice tasks and collection follow-up. I'm sure you've experienced a time where you forgot you were enrolled in an auto-pay. Maybe it was for Netflix or the gym. Regardless, behind these reminders was an automated process to supplement the manual follow up. These same tools, like our Collection Manager, are allowing managers to shift their focus on rentals rather than dialing for dollars.
We expect to see the auto-pay numbers gradually increase in the remainder of 2020, especially as operators battle the impact of COVID-19.
Inbound Calls
Inbound call numbers have also made a return. In our data, we measured the total volume of inbound calls including payments, inquiries, questions on facility hours and more.
Similar to April, we're seeing a jump in calls with a 2.8% increase month-over-month and 10.5% increase year-over-year. We can assume that April's increase was most likely tied to facility closures and customers calling in with questions, however July is a bit different. As COVID-19 restrictions ease state-by-state, we're finding that customers are shopping for storage again. To support this call influx, most operators are relying on live call centers or call center software like our DIY Contact Center to manage and route their inbound calls.
Leads Entered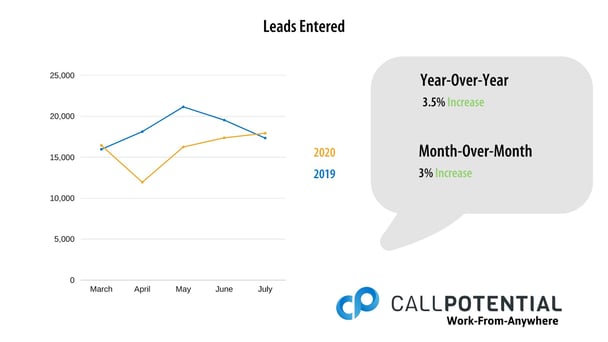 July is the first month we've seen a return in pre-covid numbers for leads entered. We measured total lead volume which includes leads from calls, call centers, and walk-ins.
As leads dropped significantly in April, most operators struggled with how to get their leads back and how to optimize the leads they're given, Although we saw leads inch their way back in May and June, July is the first sign of our industry making a 180°.
We're seeing the combination of adapted operations through virtual tech and the reopening of the economy pay off as customers return to their normal shopping patterns. Whether it's online, walking in, or calling in, we're encouraged by this return in year-over-year growth.
Rentals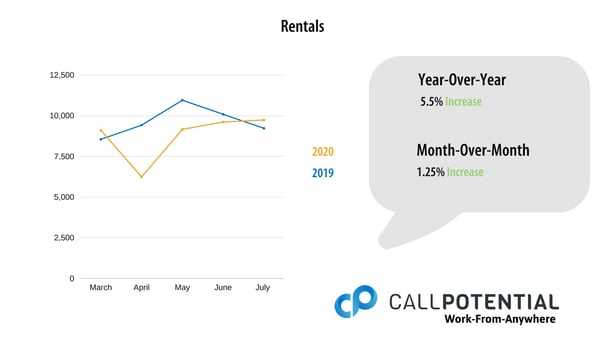 Much like lead volume, rentals have picked back up at the beginning of July. In our data, we measure rentals as a lead-turned-customer as opposed to total reservations made.
Following the path of lead volume, the 5.5% year-over-year and 1.25% month-over-month rental increase is a direct result of customers getting accustomed to their normal shopping pattern. The steep drop in April's leads coincides with the drop in rentals, as well as the return in May and June.
One of the key elements to successfully closing these rentals has been a reliable follow-up process. By following up with your leads instantly through omni-channel communication channels, you can lower the chance of them searching for storage elsewhere.
Lead Conversion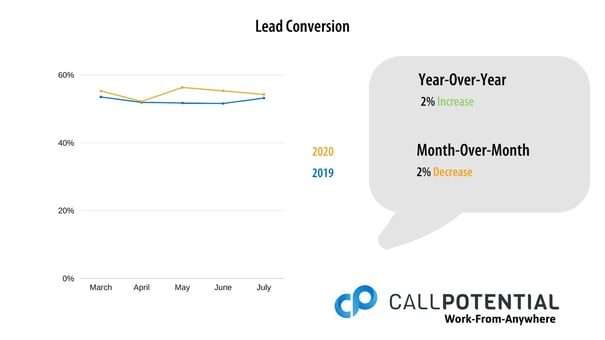 Lead conversions have increased 2% year-over-year and decreased month-over-month. In April and May we saw a considerable increase in lead conversion. We can assume that because leads weren't coming in as often, the leads that did were serious shoppers. Operators took advantage of this and relied on systematic follow-up to close the deal.
July's decrease is merely a reflection of a return back to normal lead conversion. With more leads entered, we have a lower percentage of meaningful leads who are likely to convert. For operators, bringing the competitive edge is so important right now to lock in the leads who are undecided on their storage choice.
Through the adoption of new contactless tools like automation and digital e-signs, operators have been able to engage with customers and sign rental agreements at the palm of their hands. CallPotential President and Founder Phil Murphy advises "Let your customers do business they want to do business, so you can win over their business." Virtual technology has transformed the way that leads/tenants and operators interact and will continue to reshape the way we do business.
Our driving force continues to be supporting the self-storage industry through data for better business-making decisions. If there is any specific data you'd like to see, please reach out. We're here to help!
To see any of our products in action, schedule a demo here.