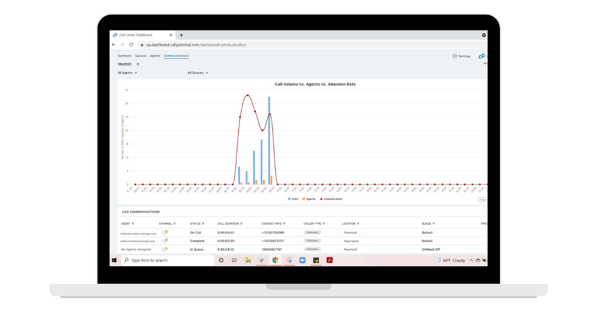 What's New?
Introducing the Communications tab: the newest addition to our recently-released Call Center Dashboard for Contact Center. Communications is a live conversation dashboard displaying all current live communications happening real time within your call center software. Most notably, it allows operators to measure daily communication metrics in one place.
Commenting on the new feature, CallPotential's Vice President of Customer Success Wendy Pirkins, says "We're very excited to continue to enhance our new dashboard based on valuable feedback from our customers. The new Communications tab provides real-time insight down to the individual call and agent level. Operators can easily view and sort key data they need to effectively manage their call center and provide the best experience for their customers. I love being part of a company that listens to their customers and builds the innovative tools they need."


More Time-Saving, Less Guess-timating
Like the other Call Center Dashboard tabs (Summary, Queues, Agents) the new Communications tab offers another snapshot view of your call center's activity.

Find, sort, and analyze your communication in a snap. The new tab is customizable to your liking, allowing you to filter through dozens of analytics including channel type, call status, call duration, call type (lead, customer, other), location, and queues.


Set Customer Service Goals
The new Communications tab helps set a clear vision for your business. With a real-time view of call activity, you'll be able to set more realistic goals and expectations for your agents.

Monitor Agent Performance
Track daily performance and issues as they happen. The new tab measures call duration, status, caller type, queue, and more so you can stay up to date on real-time activity and sharpen your view of agent performance.


Help Your Agents Excel
Drive your employee productivity and performance by revealing areas of improvement and successes. The new Communications tab gives you the opportunity to measure KPIs and deliver data-driven feedback to enhance your team's performance.|


Using the New Dashboard to Improve Your Ops
The Call Center Dashboard strives to empower operators with transparency and visibility to help make data-driven decisions. One of the many benefits is its seamless integration with most Property Management Softwares, providing:
A Better Customer Experience:

It allows operators to answer their own calls and provide service at a higher caliber than third-parties can provide.

Actionable Insights:

Monitor employee performance, identify areas of improvement, and reveal new insights from your business.

Centralization:

The dashboard simplifies all your call center data into one place for time-saving and ease.
The new Call Center Dashboard is available for Contact Center customers and can be requested for demonstration at https://www.callpotential.com/schedule-a-demo/

Already a Contact Center user? Reach out to your Customer Success Manager for more information.
About CallPotential
CallPotential is the #1 Communication Platform in Self Storage. Built for and by operators, CallPotential was designed as a game-changing suite of technology that closes leads faster with less waste, reduces past due rent with automation, and raises the caliber of customer service. Our modules were designed by storage industry veterans who understand and solve pain points using our tools with omni-channel communication like text, calls, and email. With CallPotential, every storage operator can run their business or facilities smarter, faster, and at any scale. To learn more about CallPotential visit www.callpotential.com or call Holly Fiorello, Director of Marketing, at 877-552-2557.